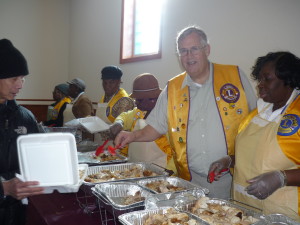 Lion Charles McBride has a Passion to Serve; hence he joined the Little Neck-Douglaston Lions Club where he has been a member for __23___years. He served his Club as President twice, Vice President, Secretary, Assistant Treasurer, Tail Twister, Member of the Board of Directors, Membership Chair, Chairman of Fundraising, Peace Poster and Scholarship committees just to name a few. He was instrumental in the formation of the St. Anastasia Leos Club where he has been the driving force supporting their fundraising and other projects at the school, raising over $1500 per year.
At the District Level Lion Charles served as Zone Chair, Region Chair, Co-chair of the Health Awareness Committee; Chair of the District Alert Team, Member of the District Global Leadership Team, Leo Club Advisor and Family & Friends Day committee.
Currently Lion Charles serves as Trustee of District 20-K1 Foundation, Chair & Coordinator of the District Rapid Response (Hurricane Sandy Relief Team) where he was where he was instrumental in receiving $138,000 in grants from Lions Clubs International to fund the Coney Island and Garrison Beach areas where the storm hit hardest. In Far Rockaway he personally delivered food, clothing, partnered with Christina Lions Club of Pennsylvania where they rebuilt a Day Care Center and worked on two other residential homes. He also physically worked with Habitat For Humanity at Breezy Point in rebuilding homes, to mention a few of what he continues to do for the community at large.
The Multiple level he served as a member of the MD-20 Disaster Task Force, Co-Chair MD-20 Youth Band and currently a Board Member at Camp Badger.
Other community affiliations are with The Little Neck -Douglaston Veterans Memorial Day Parade, one of the largest Veterans event in the country, Boys Scouts Of America, Partnered with 111th Precinct –Night Out To Fight Crime, Smart Hands Program for young students at risk, Installation of the Lions Highway Sign in Littleneck, School for the Multiple Handicapped PS94 & PS 98; Annual Udall Cove Cleanup.
Lion Charles is an Alumni of MD-20 Leadership Institute and Certified Guiding Lion. He has attended numerous International, State, District Conventions and USA/CANADA Lions Leadership Forum.
Lion Charles has received numerous awards in recognition of his service including Lions Clubs International Presidential Medal (Second Highest Award offer), is a Progressive Melvin Jones Fellow, Man of the Year by the Little Neck Douglaston Memorial Day Parade Committee, Certificates of Appreciation from PDG Brereton and PCC Askew, Certificate of Appreciation Pin from PDG Higgins as well as numerous NYPD   Citations.
Lion Charles is a retired decorated NYPD Police Officer with over 20 years of service to the Citizens of New York. Lion Charles is married to Lion Nancy and they have two sons Charles (Chip) who is married and lives in Denver, Colorado and James (Jimmy) who lives in North Carolina and is currently deployed in the military. He is also involved with his church.
Lion   Charles Passion to Serve will take District 20-K1 to another level.